Tech Recruitment in the health & medical sector
We are excited to unveil DigiTech Health, our dedicated sub-brand specialising in Tech recruitment within the dynamic Health and Medical sector.
This marks the beginning of our journey in establishing specialized sub-brands to cater to the evolving needs of various areas in the Tech recruitment landscape. Within this industry, We focus on four major areas within this industry: Medical Devices, Pharmaceutical / Life Sciences, Digital Health, and Healthcare IT.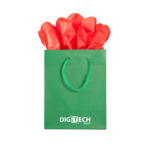 To celebrate this momentous occasion, , we are running an exclusive Prize Draw in which you can win an incredible swag bag containing a smart watch, a Remarkable Tech Talent recruitment book signed by author Paul Turner, a 10% off first hiring card, and more. We will post ONE question for each area of focus, with ONE winner for each question, for a total of four winners! The questions will be posted on Linkedin, Twitter, and Instagram for four days and will be updated on this blog accordingly.
Question 1 - What is the most essential device for tracking your own health?
Question 2 - Guess how many capsules are in the jar?
Question 3 - How many steps a day is considered active?
Question 4 - What is the most in-demand tech job in the health and medical fields
How to enter:
Step 1: Choose ONE question to answer in the comments section below.
Step 2: Like and share this post to spread the word about the DigiTech Health Launch and Prize Draw.
Step 3: Wait for your chance to win your swag bag!
Get ready to embark on an extraordinary journey with DigiTech Health we revolutionise Tech recruitment and transform the hiring process across the Europe. Don't miss out on this opportunity to win incredible prizes and be a part of our extraordinary launch!
Stay tuned for updates on our future sub-brands and the valuable resources, industry insights, and exciting job opportunities they will bring. Whether you are a candidate seeking new horizons or a company looking to build a high-performing team, DigiTech Health is here to support you on your journey.
#DigiTechHealth #TechRecruitment #PrizeDraw
---
Terms and Conditions:
The Prize Draw is open to European residents only and must be in the Health and Medical industry.
Participants must complete all two steps (answer and like/share) to be eligible for the Prize Draw.
The winners will be selected at random and announced on our social channels.
Prize winners will be contacted directly via Email for further instructions on claiming their prizes.
DigiTech Search reserves the right to modify or cancel the Prize Draw if necessary.
The hiring card offers a 10% discount on the entire bill.